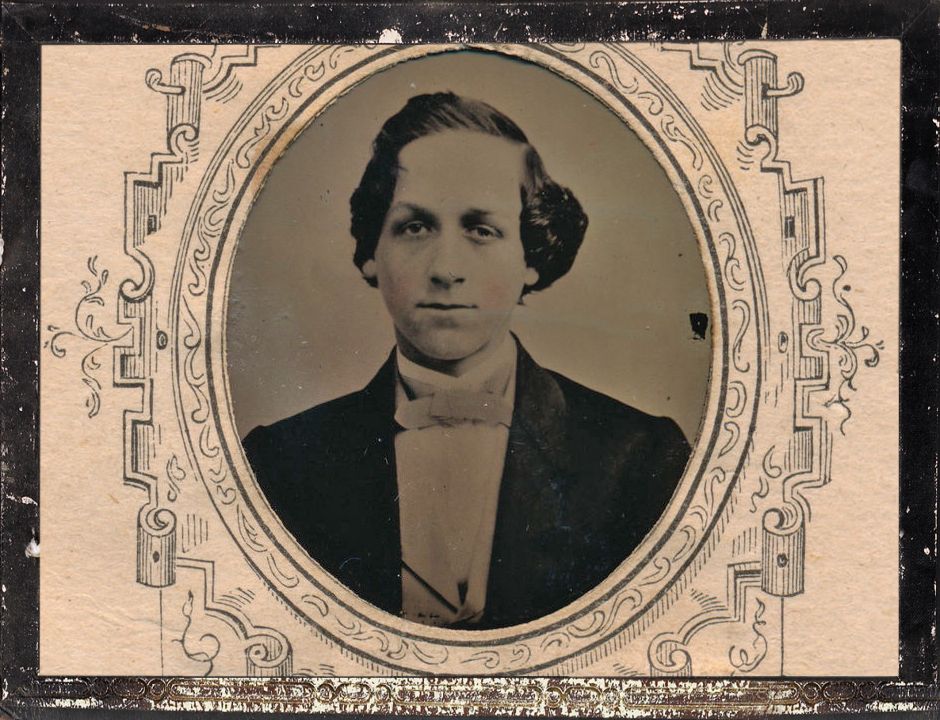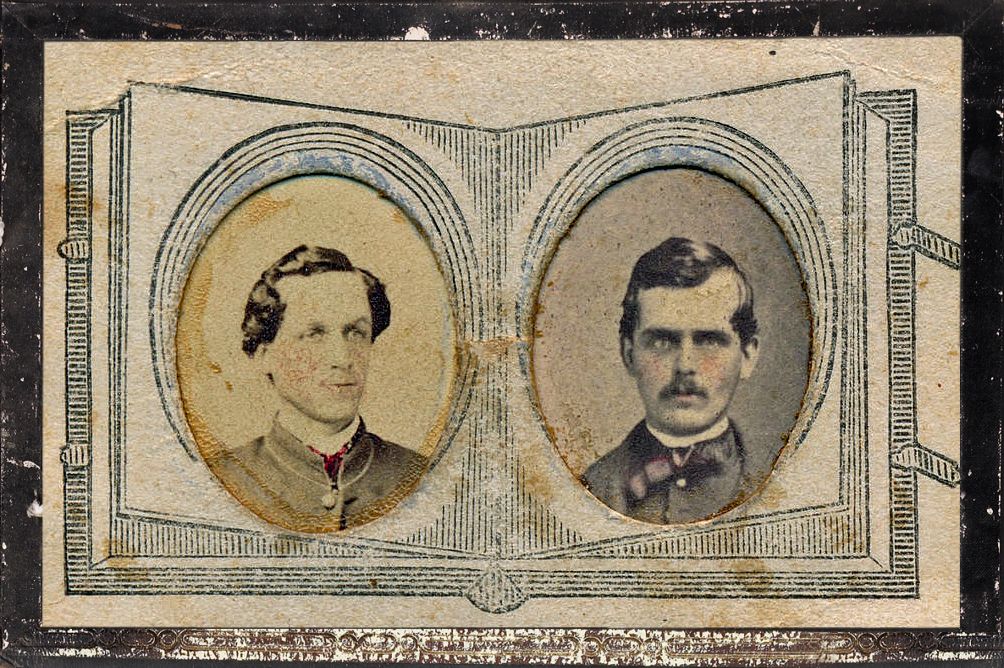 Loomis Palmer
Corporal, Company C
Loomis Palmer, who exited the 67th NY as a corporal and was transferred with the rest of the veterans into the 65th NY where he became the 65th NY's commissary sergeant

(2nd photo - Loomis Palmer's portrait is to the left, while his brother George Palmer's photograph is to the right)

Biography provided by Mike Fitzpatick

Loomis T. Palmer (1843 - 1896): State or Country of birth: Tolland County, CT; Home prior to enlistment: Newark, New Jersey; Occupation prior to enlistment: bookkeeper

Service: Co. C, 67th NY Infantry - 1861 - 1864 Co. C, 65th NY Vol. Inf. - 1864 - 1865

Rank at enlistment: Private

Highest rank attained: Commissary Sergeant

Principal combat experience: Yorktown, Fair Oaks, Seven Days Battle, Antietam, Fredericksburg, Marye's Heights & Salem Church, Gettysburg, The Wilderness, Spottsylvania, Cold Harbor, Petersburg, Weldon Railroad, Appomattox ne

Loomis Tarbox Palmer was born August 29, 1843 at West Stafford in Tolland County, Connecticut. He was the fifth of eight children born to Reverend Elliot Palmer, a Congregationalist Clergyman. By 1860 the family had moved to Newark, New Jersey.

In the summer of 1861, not long after the first call for volunteers, Loomis left his job as a bookkeeper and enrolled in Company C, 1st Long Island Volunteers. He enlisted on June 11, 1861 and was mustered into the service on June 24 for a period of three years. At the time of his enlistment he would have been only 17 years old, still two months shy of his 18th birthday. He may have lied about his age, however, as his military records indicate he was 21. Loomis Palmer's descriptive list indicates he had blue eyes, light hair, a light complexion and stood 5 feet 8 inches. At first the regiment was called the 1st Long Island Volunteers, but on August 19, 1861 the official state designation was changed to the 67th New York Volunteer Infantry.

Loomis Palmer's military records are not very detailed, but it appears he remained with his regiment throughout most of his enlistment. If that is the case, then he would have been present at the numerous engagements in which the 67th NY took part, including Fair Oaks, the Seven Days Battle, Antietam, Marye's Heights & Salem Church, Gettysburg, The Wilderness, Spottsylvania, and Petersburg. Somewhere along the line, he was guilty of throwing away two haversacks, and had his pay docked in October 1863 to pay for the loss.

On Christmas Day, 1863 Loomis Palmer reenlisted as a veteran volunteer while the regiment was encamped at Brandy Station, Virginia. In March 1864 he was promoted to corporal. On June 20, 1864 the original members of the 67th NY who had not reenlisted and were due to be discharged upon the expiration of their three-year term of enlistment returned to Brooklyn, where they were mustered out. Loomis Palmer along with the other veterans and recruits were then consolidated into a battalion of five companies, which remained at the front bearing the regimental designation. In early July 1864, the battalion was part of the Union Army's Sixth Corps that was pulled out of the trenches of Petersburg to be rushed to reinforce the defenses of Washington, DC in response to the threat posed by the rebel attack there under General Jubal Early. About this same time, on July 8, 1864, Corporal Palmer was detailed to the Commissary Department.

Beginning in August the battalion advanced down the Shenandoah Valley in pursuit of General Early and his retreating rebel army. At Charleston, West Virginia, on August 31, 1864 the veterans of the 67th NY, including Loomis Palmer, were transferred into the 65th New York Infantry, joining with the veterans of that organization. The next day, September 1, 1864, Palmer was promoted to Commissary Sergeant and was officially transferred from the rolls of Company C, 65th NY to the regimental Field and Staff. Over the next two months the regiment took part in the battles of Opequon and Cedar Creek, but because Loomis Palmer was reported as "Absent with Waggon [sic] train" sometime during the months of September and October, it is not clear if he had been present for either of those engagements. By November he was again listed as present with his regiment and was with it when the 65th NY returned to Petersburg in time for the spring campaign in 1865. The 65th New York participated in the Appomattox campaign that culminated in the surrender of Robert E. Lee and the Army of Northern Virginia on April 9, 1865.

The veterans of the 65th New York Infantry mustered out of the army on July 17, 1865 at Halls Hill, Virginia. Loomis Palmer paid a nominal fee to keep his NCO sword when he left the army; his military records stating succinctly, "Due U.S. for one Non Com Officer's Sword Belt & Frog 87 cents."

After the war, Loomis Palmer returned to northern New Jersey where he worked as a book agent in Elizabeth, NJ. He married Maria C. Vanhorstrand on May 8, 1866, but the union produced no children. Loomis Palmer died at his home in Elizabeth, NJ, on May 24, 1896 at the age of 52. After his death, his widow went to live with her brother and his family.