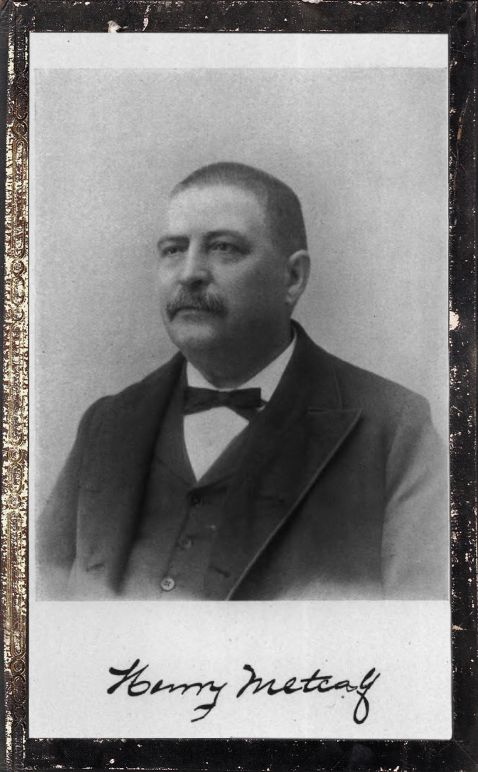 Henry Metcalf
Private, Company A
Henry Metcalf Age, 18 years. Enlisted, May 1, 1861, at Brooklyn, to serve three years; mustered in as private, Co.A, June 20, 1861; mustered out with company, July 4, 1864, at Brooklyn, NY.

The following biography is quoted from A History of Long Island: From Its Earliest Settlement to the Present Time, Volume 3 by Peter Ross published (1902)

Henry Metcalf, sergeant of the police force of Brooklyn, was born in Albany, May 22, 1843. His father, John Metcalf, a native of Saratoga, New York was born in 1819 and is still living. Our subject is a representative of good old Revolutionary stock and the spirit of his ancestors was manifest at the time of the Civil War when, with patriotic impulse, he offered his services to the government, enlisting on the 1st of May, 1861, as a member of the Sixty-seventh New York Volunteers, the First Long Island Regiment...On the expiration of his term of enlistment of three years he again offered his services to his country, re-enlisting in the Sixth United States Veteran Volunteer Regiment, doing guard duty in the city of Washington before and after President Lincoln's assassination to preserve order and protect property there. He participated in leading engagements of the war with the army of the Potomac and was always found at his post of duty, faithfully following the old flag and the cause it represented. After the war Mr. Metcalf returned to Brooklyn and was engaged in the molding trade until October 29, 1866 when he was appointed a member of the Metropolitan police force in the borough of Brooklyn, and he now holds the rank of sergeant, and it is but a question of time when he will be made captain, for he is one of the most efficient and trustworthy members of the force, permitting nothing to deter him from the faithful and impartial discharge of his duties. In politics he is a war Democrat, firm in his advocacy of the principles of the party, and fraternally he is connected with Rankin Post, G.A.R., of which he has been a member since 1888. He is also a member of the War Veterans and Sons' Association, of Kings County, and the Union Veterans League, No. 70 of Kings County.