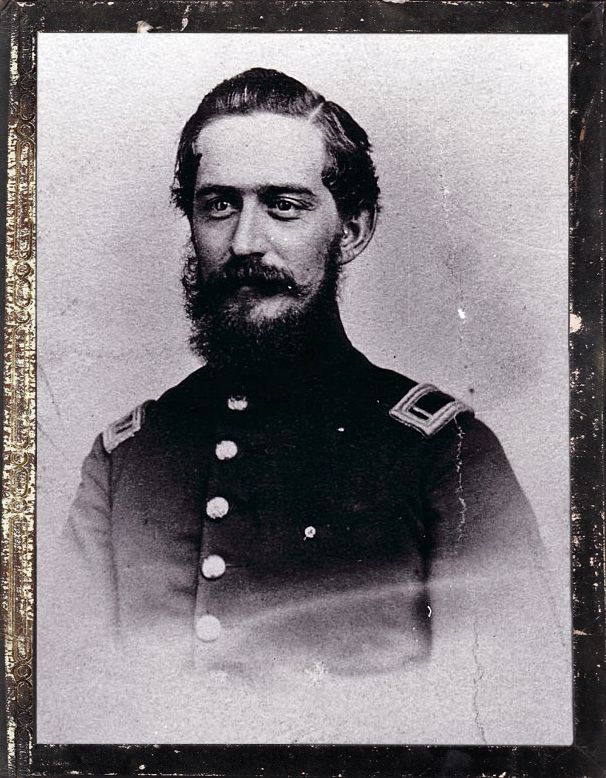 Valentine M. Hodgeson
First Lieutenant, Company K
Valentine M. Hodgeson was born on December 23, 1836 at 29 Hudson Street, New York City.

On December 30, 1857, he married Eliza Jane Signa in Tannytown, NY, the service presided over by Charles B. Sing.

In his twenty-sixth year, he enlisted in the 67th New York, 1st Long Island Volunteers on May 14, 1861 at Brooklyn and on June 24th, he was commissioned as 1st Lieutenant of Company K. At the time of enlistment, he was described as 5'8", with blue eyes, and dark hair. Occupation at the time given: 'clerk'.

During the Peninsula Campaign, the Lieutenant contracted chronic diarrhea and a case of rheumatism that would plague him for the remainder of his life. On August 2, 1862, Lieutenant Hodgeson was honorably discharged from the 67th NY and subsequently served the same rank in the Veteran Reserve Corps.

According to pension papers filed, Valentine and Eliza had seven children: Willie Milton (b. February 14, 1859, d. March 31, 1864), Minnie Adelade (b. June 16, 1860), Carrie May (b. January 9, 1862), George Rigna (b. October 18, 1863), Grace Eloise (b. November 27, 1871), Hattie (b. October 29, 1875), and Louis Dalton (b. September 6, 1876). Hattie married Charles W. Burrows and resided at 51 State St., Albany NY. Carrie married Henry R. Quimby and resided at 13 Davis Ave., White Plains NY.

Eliza died on May 30, 1912. Valentine's declining health required near constant attention by his daughter, Grace. Finally, on January 22, 1921, Valentine Hodgeson succumbed to a cerebral hemorrhage and died at the age of 84. He was buried in White Plains Cemetery.

(Photo courtesy of the Division of Military & Naval Affairs, NYS Adjt. Gen Office, Albany NY)

Information provided by the New York State Library, Albany NY by the American Civil War Research Database and the National Archives in Washington DC.