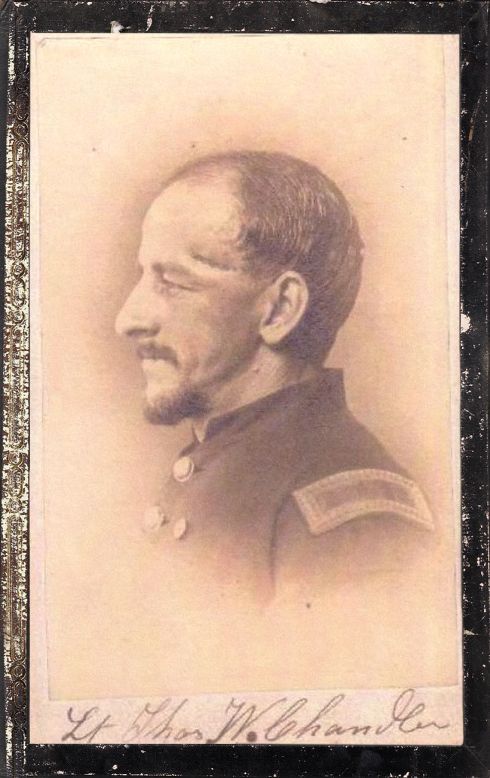 Thomas William Chandler
Second Lieutenant, Company F
Thomas William Chandler was born in England in 1829. At the time of his enlistment, Mr. Chandler was described as 5'6 1/2 in height, weighing 125 lbs., and displaying a 'light complexion'. His profession was 'shirt cutter' and No. 4 Nassau Place, Brooklyn, NY was listed as his residence.

Thomas Chandler enlisted as Private in Co. F of the 67th New York on June 20, 1861. On March 1, 1863 he was promoted Sgt. Major and on the first day of 1864, he was commissioned as 2nd Lieutenant.

On March 25, 1865 during a charge upon enemy breastworks at Fort Stedman at Petersburg VA, he was wounded in action receiving a bullet wound to the left side of his head, behind the left eye. Lt. Chandler was helped off the field by Charles A. Baker, Adj. of Brooklyn, and spent 35 days at the 6th Corps Field Hospital at City Point, VA. His medical stay was subsequently followed by a 30-day furlough. As per medical records, the initial diagnosis of his wound was that of a 'scratch to the head'. On May 25, 1865, he was discharged from Co A., 65th NY by Special Order No. 303 of the Secretary of War, Townsend, Adj. General. The musket ball was removed from his head on July 8, 1865 by John Johnson MD at No. 153 Joralemon Street, Brooklyn NY.

The following is from Mr. Chandler's Request for Increased Invalid Pension Dated September 15, 1880:His civilian job was that of foreman in a shirt factory. Due to his wound has prevented him from filling once his discharge. His trade is a shirt cutter, which requires care and judgment in cutting muslin to advantage. He had to apply his mind constantly and attentively. He has to remember how many pieces he has already cut. These garments consist of from 12 to 22 pieces each. His memory no longer serves him to do his work accurately and quickly and his wound actually reduces his earnings $60 a month. Extreme heat and cold affects his head and compels him to seek shelter. Long mental allocation also affects his mind and weakens and distracts his mental capacity. Signed E.P. Brooks, Attorney, No. 111 Nassau Street, New York. The original application for Pension was filed on May 28, 1869 for $15 per month.

Mr. Chandler took Fanny Ella Stevenson as his wife on December 5, 1854 at the First Presbyterian Church, Hoboken NJ, the ceremony presided by Reverend Isaac P. Stryker of Gloster, Bergen County NJ. The Chandlers had two sons and one daughter. Samuel was born on June 25, 1867. No date of birth was found for their other children, Joseph and Martha. The daughter took the married name of 'Brandow' and resided at 12 Gates Ave., Brooklyn NY. Mr. & Mrs. Chandler's married residence was No. 161 Washington Ave., Brooklyn NY.

Thomas William Chandler passed away on March 19, 1882 at the age of 52. His body was interred at Greenwood Cemetery, Brooklyn NY.

After William's death, Fanny moved in with her daughter Martha at 12 Gates Ave., Brooklyn NY and collected a widow's pension of $18 per month. A Mr. Harry and Kattie Pool also lived at the above address and were witnesses for Reimbursement Application for medical expenses. Fanny passed away on September 6, 1909 of 'gastro meningitis exhaustion'. She was buried alongside her husband in Greenwood Cemetery. What happened to their two sons is unknown.

All information was acquired from his pension papers provided by the National Archives in Washington DC.