JERALD LANE
Private Solomon Bell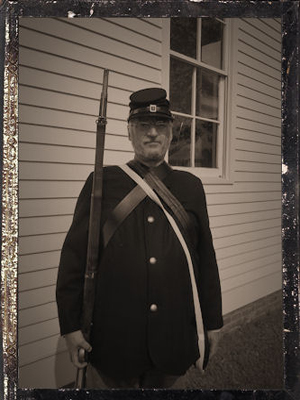 May 28, 1949 - March 7, 2014
In just two and half years, Jerald Lane (a/k/a Private Solomon Bell) successfully crammed in a decade worth of Civil War Living History tackling just about every event on our calendar including parades, school programs, living histories, and re-enactments that would have tested the endurance of much younger men.

When not in the field, our Mr. Lane proved an indispensable asset to our regiment, rolling up his shirtsleeves and working passionately to uncover anything and everything he could about the original 67th NY including inquiries at every conceivable archive and trips to local historical societies. At our meetings, Jerald presented his findings with enthusiasm and he openly stated that his goal was to write the first ever book on the First Long Island Volunteers.

While the role of Historian fired him up he willingly sacrificed that title to take on the role of Treasurer at the start of his last season as his professional experience made him the most qualified. Nevertheless, Jerald was more than willing to continue his historical research on his own time. And if that was not enough, Jerald was a tireless booster for our regiment, plugging all our events most especially our annual Grange event.

Cantankerous, irreverent, and ever irascible, what more can be said of a man who would have been very pleased in having his casket draped in the Jolly Roger? Jerald may never have finished his history of the original 67th NY but he made an indelible mark in the history of Today's 67th NY.